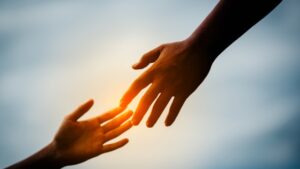 This article is a collaboration between Heike Mertins, author of "Grief is…" and Linda Stuart, creator of memorable ceremonies.
Instinctively we come together when death happens.  The need to be comforted and the need to offer comfort is part of what it means to be human.  It gives those most greatly affected by the loss hope that they are not alone and that there are others who will help them survive the gruelling days ahead.  Covid-19 has put our traditional ways of coming together on pause. No one disputes that this is problem, but it is a problem we can solve.
Intentionally setting aside time to be with friends and family and take part in a shared activity is a good place to start. It's not essential to have access to technology to be part of one of these "coming togethers." The simple act of participating in the same activities as others in your community at the same time can create a shared experience.  It's somewhat like when we discover a friend has been to the same restaurant or seen the same movie that we have. We were not physically there together but we both had an experience that connects us. This is, of course a gross oversimplification, but perhaps also a simple way to explain it. In other words, there are many ways for us to connect with others and to feel connected to others. Creating non-physical shared experiences are simply another way for us to connect and hopefully also heal.
It's not essential to have to have access to new technologies to create a "coming together."  The telephone and mail are still effective means of inviting others to take part.
If you are fortunate enough to live with others, an additional layer of richness can be added by sharing memories of the departed.  For those on their own, the act of setting time aside to remember and/or journal is in itself an act of honouring lost loved ones. As with all creative projects, there are no rules. We encourage you to mix, match and tweak our ideas to create your own memorable moments.
Create a Themed Event
An afternoon with Ernie: spend the afternoon indulging in Ernie's favourite pastimes.
Everyone wears a tie: Joe was known for his fabulous ties.
Tiara Tuesday: Sally was a princess in her own right (sparkly too).
Organize A Memory Circle
Telling stories can be incredibly healing and give loved ones an opportunity to collectively share special memories. This can be done verbally or in a written format.  Stories can be shared once or collected to be shared with the group on a later date.
Share a Meal Together
Grandma was famous for her spaghetti and meatballs. Send everyone her recipe and enjoy a virtual or non-virtual dinner together.
Collect Photos
Ask family and friends to send you their favourite photos which can then be compiled into a meaningful video tribute that can be shared via social media, during a virtual private event or at a later date when physical gatherings are again possible. 
Light a Candle
They say there is no darkness that the light cannot reach. Flame has always been symbolic in our world candlelight has come to represent rebirth, renewal and hope. By dedicating a special candle and choosing a day and time where family and friends can each light their own candles we can collectively illuminate memories and love.
Light a candle at the same time…
Blow candle out at the same time…
 Share a Playlist
Music can touch a place that words can never reach. Creating and sharing a playlist of your loved one's favourite tunes can be a beautiful way to connect with each other on another level.
Find a Rock
Rocks are symbols of strength and stability. Simply holding one in our hands can help us feel more grounded and connected. Ask everyone to find a rock and using a sharpie, write a word on it that describes your loved one. You can even decorate it with paint, stickers, markers. A great activity for children. When you're able to gather once again, everyone can bring their rocks and a new shared experience can be created.
Develop a Facebook Page
Turning someone's Facebook page into a memorial page creates another place for friends and family to gather, share memories and feel connected. Instructions for how to do this can be easily accessed online.
Hold a Virtual Formal Ceremony
Holding a more structured event, one that is similar in format to traditional gatherings will require some planning. You may consider enlisting the help of a friend, family member or celebrant to lead the ceremony and assist in choosing music, readings, and the writing of a eulogy. Create an invitation and a program so that guests know what to expect. To ensure seamless delivery, resolve any potential technology glitches the day before by having everyone log onto and become familiar with the platform.
We hope these ideas will be a starting point to help those who have lost loved ones during this pandemic come together, feel their pain, remember the love they shared for the departed and to build a new place where that love will continue to live: a place of memory and community that enables us all to move forward.
Heike Mertins is an author, blogger, and speaker. To learn more about Heike's work and her book "Grief is…Thoughts on loss, struggle and new beginnings" visit www.heikemertins.com
Linda Stuart is a Life-Cycle Celebrant, speaker and writer. To learn more about Linda's authentic approach to creating and delivering one-of-a-kind ceremonies, visit www.linda-stuart.ca