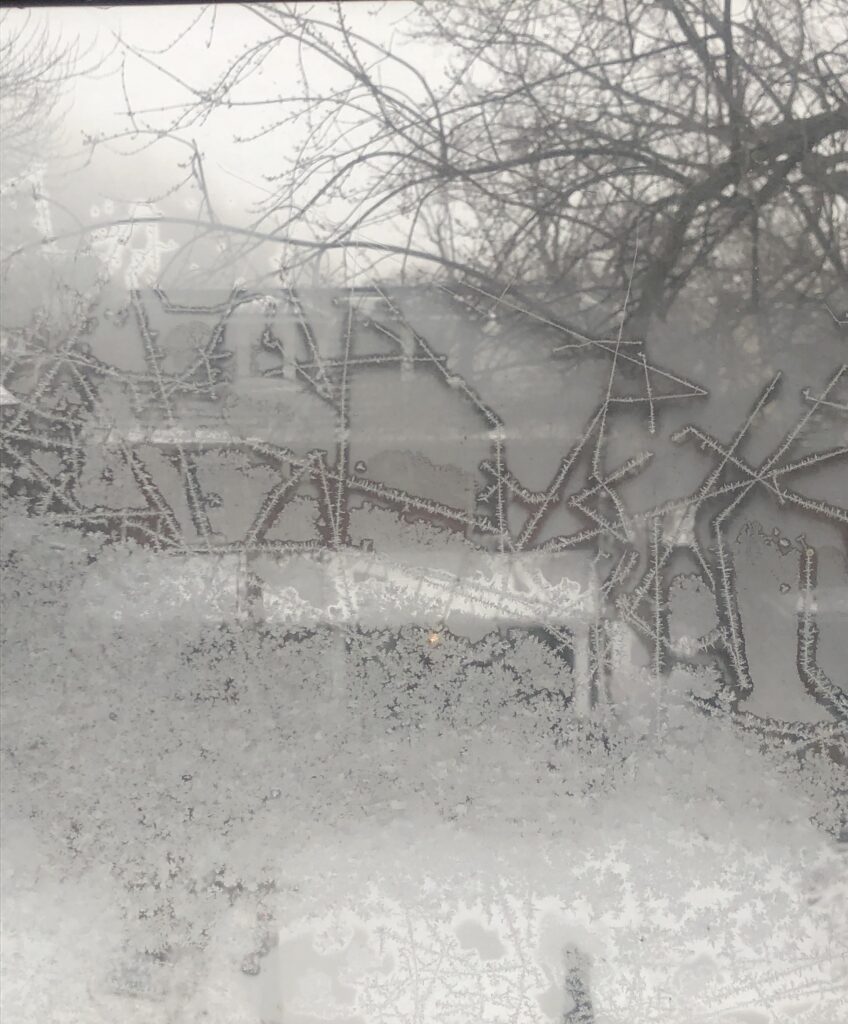 As I sit at my desk, I watch a kaleidoscope of frosted patterns dance across my windows. I remember how on winter mornings as a child my sister and I would stand on the edge of our beds in our little nylon nightgowns and blow on the ice encrusted panes that lined one side of our shared bedroom. With deep concentration and quiet joy, the warm tips of our fingers would add our imagination's musing to nature's masterpieces.
I am grateful for this memory. I have much to be grateful for these days. I am grateful that those I love, both family and friends, are hunkered down in their warm homes, either alone or with loved ones, furry and otherwise. There are extreme winter storm warnings in effect for much of the province. I am grateful no one has to drive anywhere today. I am grateful that, as we approach Christmas, the pandemic taught us that there are many ways to gather and that coming together to celebrate is more about being with one another than it is about being locked into having to do so at a particular date and time.
This is the 11th Christmas since my husband died. That first year was a doozy. So much pain. Tears constantly waiting for the opportunity to be shed. So much support and understanding. The laying of another foundation – a different place for me to slowly begin building a different life. Gratitude and perspective were elusive at that time.
It took a long time to live again with gratitude. Learning how to meld memories of Christmases before his passing with those since was a part of the process. There is a richness amidst the before and after memories, that is often filled with a cornucopia of conflicting emotions. Interestingly, I now easily recognize them, and they no longer confuse me. At times they do still leave me feeling unsettled. When this happens, I've learned to remind myself that melded blended mishmash is a good thing. It lets me feel the warmth of old memories, the gentle pricks of past sorrows, and the excited anticipation of joys that are to come. It means I've built a new home for what once was, what is, and what will be. This brings me peace.
We learn to live with loss. It changes us and how we live. It's a good thing and it's a hard thing. I am grateful to be in this space. It is enough for me to be grateful to be here. With my imagination and my warm fingertips, I add my reflective musings to my life's masterpiece.
Stay well,
Heike
************
Buy Heike's book "Grief is…" here at: Amazon Indigo Barnes & Noble Apple Books
To receive this blog in your inbox sign up here
To learn more about Heike (Author: "Grief is… thoughts on loss, struggle and new beginnings click here